4 Reasons Your Business Should Consider WordPress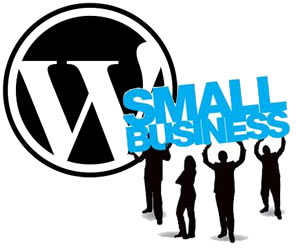 I've been asked a few times why I only create websites with WordPress. I began to design with WordPress in 2009 and have since learned about its many benefits. I feel strongely that using such a powerful content-management system as a basis for a website is a huge win for small to medium sized businesses. So much so that this has led me to focus only on designing websites for clients using the platform. Below are my top 4 reasons for choosing WordPress.
1. Ease of Use
WordPress is a DIY way to manage your own website. Business owners can edit and add content, add categories, backup files, add links, upload photos and documents, and add widgets with ease. There is no need to know programming to make simple updates to your site. So no more calling a programmer and waiting for them to update the content on your site. You can do this yourself, which leads me to reason #2.
2. SEO
Straight out of the box, WordPress has built-in SEO functionality. Google's Matt Cuttis has stated that "WordPress is software made to do SEO well." Adding tags and categories within your page set-up increases SEO and makes it easier for people to find content on your site. Utilizing this set-up gives your site an advantage in search engine optimization. SEO Tip: Write content for your customers, not for search engines. Consider the words someone would use to find your service or product online and include those words within your site's content. SEO is all about including popular verbiage and updating your site with fresh and unique content. The more you put into it, the better it gets. The fact that WordPress offers ease of use means business owners can increase their search engine rating by staying active and adding new content regularly.
3. Extensions
Adding plugins and themes to your site increases its functionality. WordPress gives you access to thousands of plugins, many for free. These plugins add functions to your site to fit your specific needs (i.e., contact forms, video players, scrolling images, etc.) Plugins and themes are regularly being created and updated by developers. In short, the possibilities with what you can do with your site are endless when you consider the incredible variety of themes and plugins that WordPress gives you access to.
4. Availability and Low to No Cost
Most hosting providers allow for one-click installs of WordPress on their servers. This means most anyone can run a WordPress website. The software is open-source, you can download it for free! Combined with the community of plugins and theme developers who offer low to no cost products that are easily downloaded and activated on a hosting server, choosing to utilize WordPress for your small to medium sized business is an incredibly cost effective decision. Add to that the ability to self-manage content changes and getting rid of the need to pay a programmer to make content changes, I don't see how a business owner can afford NOT to use WordPress!
When it comes to small business owners, anything that can save a penny is appreciated. The first step to getting the most for your dollar is to hire a skilled WordPress website designer. Once the site is built, they will then show you how to easily manage the site. The power is in your hands. I don't believe there's a better option for a business owner looking to get their business online and increase their viral presence. For the cost, the functionality, the search engine optimization and ease of use, WordPress is the absolutely the way to go.
https://erinsweeneydesign.com/wp-content/uploads/2012/04/wordpress-small-business.jpg
250
300
Erin Sweeney
https://erinsweeneydesign.com/wp-content/uploads/2019/09/ESD-logo-for-website.jpg
Erin Sweeney
2012-04-21 10:04:56
2015-03-21 07:26:07
4 Reasons Your Business Should Consider WordPress