Lawn signs must be easily read in under 4 seconds. In designing a yard sign, I focus on making certain the last name of the candidate stands out above all else. Often times at the polls, the name is what voters will remember over a tagline, or even what position they are running for. I also use bold colors with a high contrast to make the signs very easy to read on the fly. For candidate Keith Lapointe, the yard sign design was our first piece of branding development. From the final design, we took that branding and moved it into all of his other marketing pieces.
Click thumbnail above to view full image
Logo design isn't just for businesses. Political campaigns need something that is instantly recognizable too. More specifically, a well-designed logo presents a professional front. It gives credibility to the campaign, as well as offers a consistency across all of the platforms the candidates and/or the political organizations need to be.
Click thumbnail above to view full image
Marketing/Promotional Material
While a campaign may only last a brief period of time, it's imperative that the time is spent spreading as much information as possible. Through the design of business cards (e.g., handed out at campaign events), buttons, bumper stickers, banners, and direct mail postcards, keeping the branding consistent shows a repetition of the same message. Keeping the brand the same as we move from one marketing piece to another is a strong way to make a lasting impression on voters.
Click thumbnail above to view full image
Social Media Design and Management
Campaigning has changed over the years. Social media marketing is a powerful tool when it comes to reaching a large number of people who do not know you or your message. I make sure I keep the branding and message intact as we move to a social platform. I also assist by managing the page, making sure the images associated with the postings stay true to the established branding, as well as helping grow the social following through regular postings and by utilizing strategic social marketing tactics.
"Erin's contributions to my campaign were invaluable. Erin was able to understand my vision and priorities and develop an end to end marketing campaign that translated my voice so it resonated with voters. She provided everything from logos and graphics to helping to craft my tag line and ultimately creating an online, social, and print presence. This campaign, although for local office, had all the polish of a national effort. Thank you, Erin."
"Thank you, Erin. Your role in the success of the home-rule charter effort cannot be overstated."
"Erin, first of all, let me again thank you for all of the work you have been doing with NorthCHAC. Your talents are outstanding and the amount of work and polish you have put into this effort has been outstanding. I am sure that we would not have gained all of the support we have without your effort."
"So exciting and you are a HUGE part of this!!!"
"Erin, I truly could not have done this without you. I am so grateful and honored to receive your support and help on this journey. It has been a pleasure working with you so far and I look forward to working with you in the future."
At the end of the day, the goal of the marketing campaign is to get visitors to your website. The website is the home where everything lives. It contains all of the information visitors need to learn about the candidate or the political group. Again, branding stays consistent. I often connect the website to various social posts to drive visitors to the site, as well include a website address on marketing materials.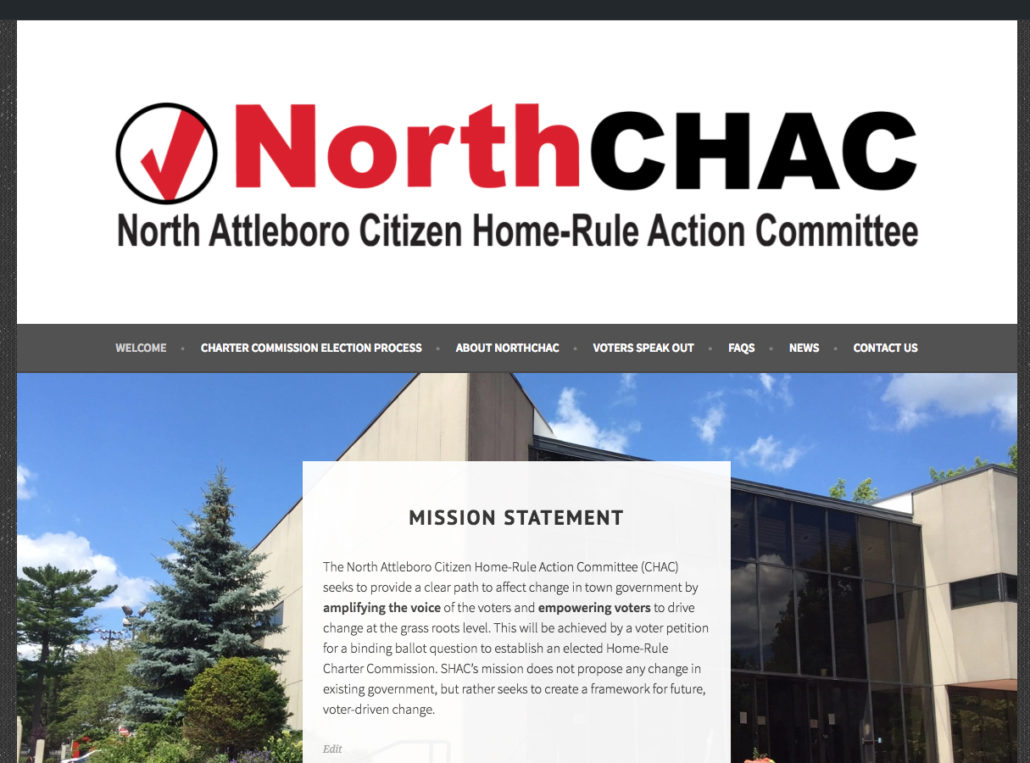 North Attleboro Citizen Home-Rule Action Committee
Political website
Erin Sweeney Design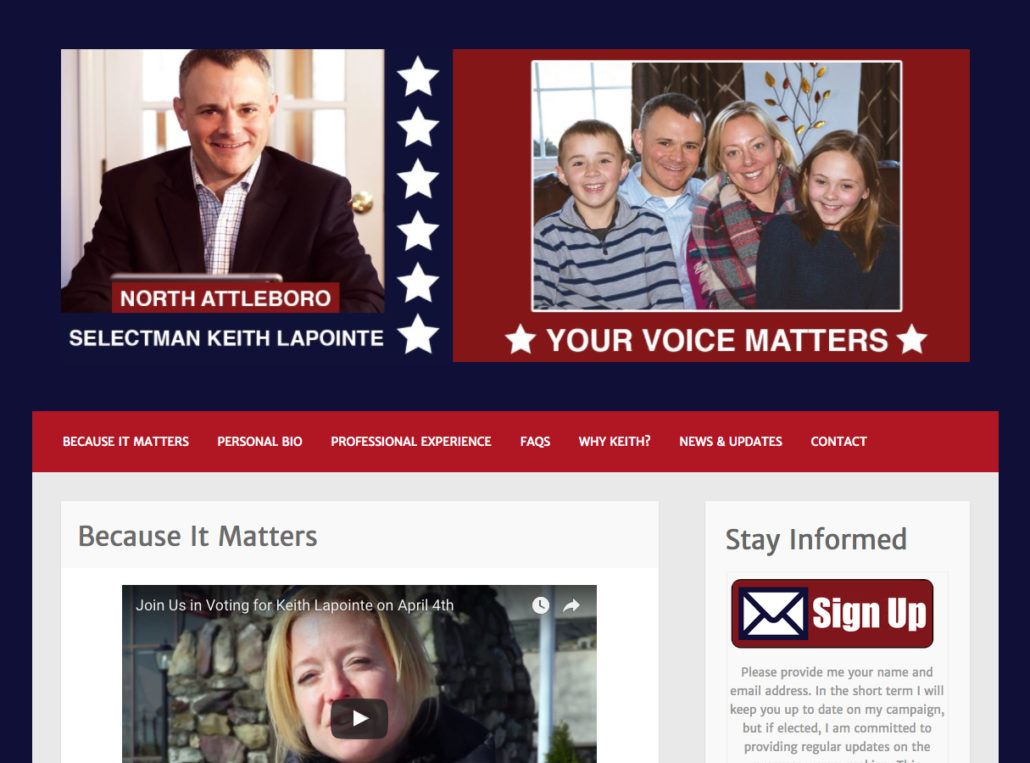 Keith Lapointe
North Attleboro Board of Selectman
Erin Sweeney Design