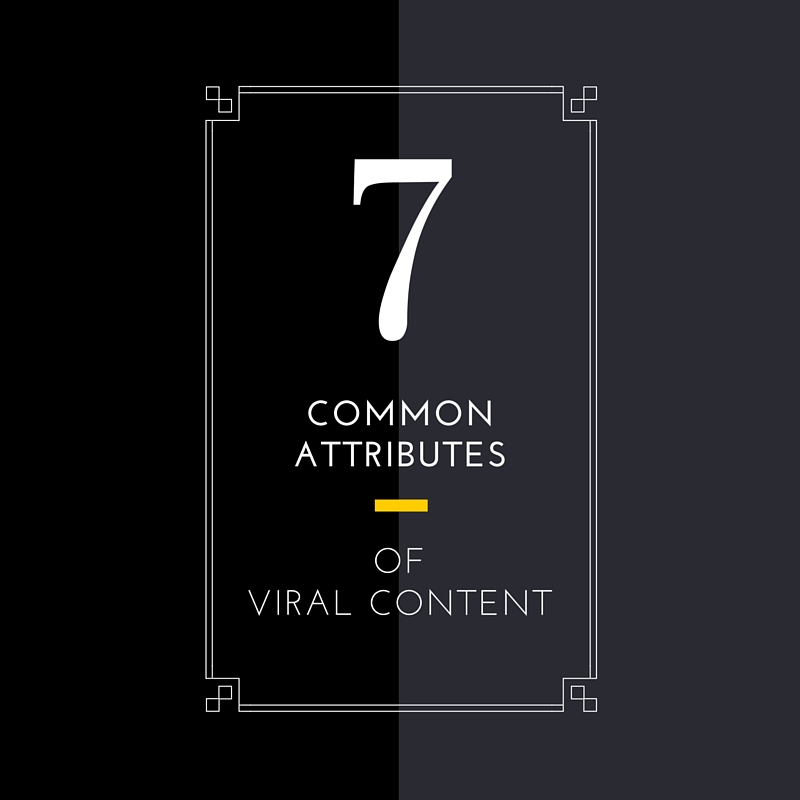 Content marketing is the creation and publication of original content, such as blog posts, white papers, and videos. This content is used to generate leads, as well as enhance your brand's visibility. But, even if it's the greatest content you've ever written, if people don't see it, they will never know about it. How can you create content that goes viral? BuzzSumo has researched this topic and found 7 common attributes of viral content.
Common Attribute #1: Viral Content Includes Between 3,000 to 10,000 Words
Content length affects rankings and conversions. When comparing the typical amount of words on a webpage, studies show that Google prefers content-rich sites. Not because Google finds this valuable, but because viewers prefer content-rich sites. Therefore ,so does Google. The more viewers to see the content, the more likely they are to link to it, the higher the site's rank on Google. Did you know the average web page that ranks on the front page of Google has over 2,000 words of content? Something to think about the next time you put pen to paper.
Common Attribute #2: Viral Content Includes Images
Articles with images get 94% more total views than articles without images. 60% of consumers say they are more likely to contact a business when an image shows up in a local search. Not to mention the engagement rate on Facebook for photos is 37% higher than posts with only text. Basically, if you want your content to be seen, use images.
Common Attribute #3: Viral Content Appeals to Emotions
The average person is exposed to more than 3,000 ads each day. Posts that appeal to emotions are a way to break through all that clutter. Plus, people tend to buy with their hearts. Emotional content appeals to the subliminal minds, triggering thoughts, hopes, or expectations, and grabbing the viewers attention.
Common Attribute #4: Viral Content Includes How-To Information, Lists, or Infographics
How-to articles, lists, and infographics organize information while catering to our short attention spans. They typically include useful data that readers find interesting. Non-expert audiences find them easy to read because they present facts in an understandable way.
Common Attribute #5: Viral Content is Perceived as Trustworthy
Try these 3 easy tips to make sure your business is seen as trustworthy online:
Humanize your website. People trust people. Use real images of yourself and your staff. Consider using videos to take it a step further.
Use Social Proof to show that other people use and trust your site. Human nature makes us look at how others behave, then mimic that behavior. Include a list of Facebook fans, Twitter followers, or followers from other social networks on your website.
Include customer testimonials. Testimonials tell visitors that you were able to help, plus they showcase your successes.
Common Attribute #6: Viral Content is Shared By At Least One Influencer
Influencers are the 1-2% of individuals who have tons more impact online compared to the other 98%. Influencers don't necessarily have more followers. Moreover, they generate the most impact by having a strong engagement, and having an audience interested in your content. Click to learn how to get influences to share your content.
Common Attribute #7: Viral Content is Promoted Several Days, Weeks, and Months After It Was Originally Written
Resharing content is a viable way to add visibility, engagement, and interest to your posts. Sharing content again not only increases visibility, it allows followers who may have missed the original post another chance at seeing it. Just be sure you're creating unique content more often that you're resharing it.
"Content is King"
Nearly 20 years after Bill Gates published the essay "Content is King" on the Microsoft website, his belief still holds true. Gates told us "Content is where I expect much of the real money will be made on the Internet, just as it was in broadcasting." Content continues to drive the Internet as we know it today. Social networks, blogs, video websites, you name it. Content is everywhere. Are you taking advantage of the power of content marketing?
Was this article helpful or informative? Please Like or Share. Thank you!
[fb_button]