5. Scooby-Doo
Did you know Scooby-Doo got his name from Frank Sinatra?
An animated cartoon franchise, Scooby-Doo has been in several different animated tv series' over the past 40 years. The Hanna-Barbera Productions series "Scooby-Doo, Where Are You!," beginning in 1969, was originally based on "The Archie Show", a take on the famous "Archie" comic book in which the characters were teenagers in a rock band. Fred Silverman, Executive Producer of daytime programming for CBS at the time, wanted to launch a similar show, but one with 5 teenagers and a dog who solved mysteries when they were not performing at gigs. Originally titled "Mysteries Five", the characters were created by lead character designer, Iwao Takamoto. Takamoto consulted a studio colleague who happened to be a breeder of Great Danes. After learning the characteristics of a prize-winning Great Dane from her, Takamoto proceeded to break most of the rules and designed the dog (originally named "Too Much") with overly bowed legs, a double chin, and a sloped back. Before launching the show, the rock band element was dropped, and more attention was focused on the characters of Shaggy and Too Much. While on a flight to a development meeting, Silverman is said to have been inspired by Frank Sinatra's scat "doo-be-doo-be-doo" at the end of a recording of "Strangers in the Night" and decided to rename the dog "Scooby-Doo." The show was renamed "Scooby-Doo, Where Are You!," presented to CBS executives, and was approved for production. "Scooby-Doo" was born!

4. Fred Flintstone
Fred's personality was based on that of Ralph Kramden of the 1950s television series The Honeymooners. Much like Ralph, Fred tends to be loud-mouthed, aggressive, and constantly scheming ways to improve his family's working class lot in life, often with unintended results. The personalities of Archie Bunker of All in the Family and George Jefferson of The Jeffersons owe much to Fred. Like these characters, Fred loses his temper easily and is very impatient, but he seems free of malice and never holds a grudge. Although his loudness irritates the people around him, Fred proves friendly, often going out of his way to help others. Also, although Fred often annoys Wilma with his immaturity, he is known to go to great lengths to please his family and apologize when he goes too far. (Courtesy of Wikipedia)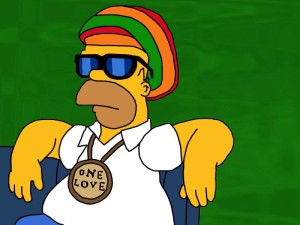 3. Homer Simpson
Homer Simpson, voiced by Dan Castellaneta and created and designed by cartoonist Matt Groening, was named after Matt's father, Homer Groening (who happened to have been named after the Greek poet, Homer). Groening has said he named Homer after his father, in part, to annoy him since the only thing the two have in common is a love of donuts. Homer is considered one of the most influential characters in the history of television. The British newspaper "The Sunday Times" described him as "the greatest comic creation of [modern] time". Entertainment Weekly named him the greatest cartoon character "of the last 20 years" in 2010. TV Guide ranked Homer just behind Bugs Bunny as the second greatest cartoon character. Channel 4 voters voted him the greatest tv character of all time. Pretty big titles for someone who is crude, bald, overweight, incompetent, clumsy, lazy, a heavy drinker, and ignorant. Yet, he is also a good guy who is fiercely devoted to his family. In 2000, The Simpsons were awarded a star on the Hollywood Walk of Fame.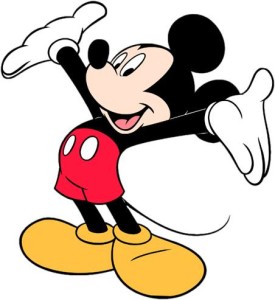 2. Mickey Mouse
Created in 1928 by Walt Disney, Mickey Mouse has become one of the most recognizable cartoon characters in the world. Mickey Mouse was created as a replacement for Disney's "Oswald the Lucky Rabbit" after he discovered he did not own rights to that character. Disney said that experience taught him to, thereafter, always make sure he owned all rights to the characters produced by his company. Mickey Mouse officially debuted in 1928 in one of the first sound cartoons, "Steamboat Willie." He went on to star in a self-titled comic strip for 45 years. He has appeared in numerous movies and cartoons. He also appears in other media such as video games, as well as merchandising, and is a meetable character at the Disney parks. Mickey became the first cartoon character to have a star on the Hollywood Walk of Fame on November 18, 1978, in honor of his 50th anniversary. "I only hope that we never lose sight of one thing – that it was all started by a mouse." Walt Disney, 1954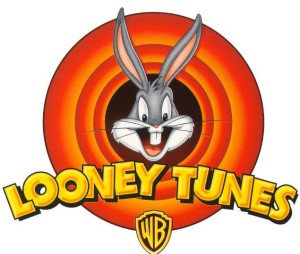 1. Bugs Bunny
Bugs Bunny was first seen in the cartoon "A Wild Hare" in 1940. Voiced by the legendary Mel Blanc for close to 50 years, Bugs serves as the official corporate mascot of Warner Bros. Entertainment. He has appeared in more films than any other cartoon character, was the first cartoon character to be put on a postage stamp, is the ninth most-portrayed film personality in the world, was made an honorary Marine Master Sargent during WWII by the U.S. Marine Corp, and has his own star on the Hollywood Walk of Fame. The well-known catchphrase, "Eh, What's up, Doc?" appeared in the first Bugs cartoon, and has stuck with him ever since. It is one of the top 10 most recognized cartoon TV character catchphrases of all time.